Family Lineage - Looking Back

A family descended from Samurai, Soshu's family hails from the Kumano region of Wakayama prefecture. The family crest ("mon") called miyoga in Japanese is shown here. This mon is made up of ginger which grow strong and spreading roots. The Shintaku family lineage has been traced back to the Heike* clan of Japan -- 12th century, and Kumano Hayatama Taisha (shinto shrine). You can learn about the history of Japan, the Genji and Heike families by reading The Tale of Genji or The Tale of Heike, a famous tale of the war between the Heike and Genji clans.
Soshu's History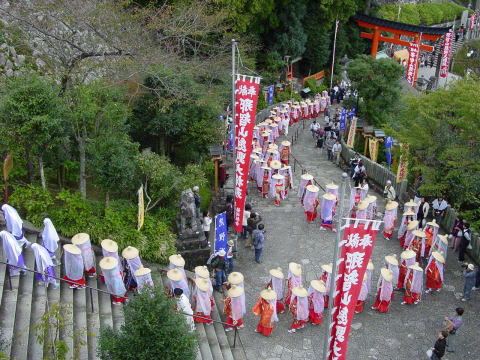 As was expected in the 1950's when growing up in Japan, Soshu studied martial arts in one form or another since elementary school. However, his serious martial arts study began during the early 60's when he vigorously studied
Goju Karate
at Kyoto University of Foreign Studies. Goju Ryu was founded by Miyagi Chojun. The art of Goju Ryu spread from Okinawa to mainland Japan by Yamaguchi Gogen. There, Yamaguchi Sensei's personal student -- Tada Seigo Sensei (1922 to 1997) -- taught Goju Ryu to students at various colleges and local dojos including students from Kyoto University of Foreign Studies. Shintaku's instructor and friend to this day, Koda Shihan, was a senior student of Tada Seigo Sensei, and currently serves as Executive Director for the Japan Karate-Do Federation Gojukai (JKF Gojukai).
Training in Goju Karate was very serious, very physical and provided a strong foundation for Soshu's formative years in the martial arts. Training included conditioning - like learning endurance by sitting in the freezing winter river waters, and of course, regular sparring (no padding or protective gear). College tradition at the time was for new members to be officially recognized as a club member, they would have to spar for 2 minutes with each black belt in the club. As a white belt, the experience "felt like forever..." much more than the 20 minutes it took to spar with 10 black belts. After receiving his degree from Kyoto University of Foreign Studies, Shintaku received his license to teach in Japan. To further his knowledge of the English language and western culture, Soshu Shintaku decided to move to the United States. While in the US, he continued with his martial arts studies teaching Goju Ryu Karate at Berkley University in California. He then moved to South Carolina in order to immerse himself in English, and earn an Associates Degree at Anderson University. While at Anderson University, he continued his teaching of traditional Goju Ryu Karate.
After receiving his degree from Anderson University, Soshu returned to Japan, and wanted to learn more about Aikido. This decision came about after previously seeing a demonstration by Aikido's Founder, Morihei Ueshiba. Shintaku Soshu then began studying Aikido from Morihei Ueshiba's 10th Dan - Hikitsuchi Sensei -- located in Shingu. In Shintaku Soshu's opinion, Hikitsuchi Sensei was the most devoted student to the Founder of Aikido.
Hikitsuchi Sensei devoted his life to O'Sensei. Due to Hikitsuchi Sensei's devotion, morning prayers were offered to O'Sensei, monthly visits to the Founders graveyard, and monthly memorials for the Founder were held. Through Shintaku Sensei's daily training experience with Hikitsuchi Sensei, he learned of the deeper concepts of Aikido the Founder had emphasized. Shintaku Sensei spent early mornings alone with Hikitsuchi Sensei, and these were special, insightful moments in his life. Shintaku Sensei was dedicated to studying - traveling to the dojo at 4:30am in order to arrive early enough to clean the dojo and be ready for morning prayers. Routinely at the dojo before others arrived affored him private time with Hikitsuchi Sensei. It was also during this time Shintaku Sensei studied Iaido (Eishin Ryu), Bojitsu, Kendo and Jujitsu. Soshu Shintaku was fortunate enough to study Iaido from two instructors, Ishigaki Moriji, and Hikitsuchi Sensei himself. *Moriji Sensei was an instructor of sword arts to Hikitsuchi Sensei.
Later returning to the States, Soshu resumed teaching in South Carolina. It was then he began studying Ryukyu Kempo Karate and weapons from Okinawan Karate Master, Taika Oyata. After approximately 5 years, he moved to Missouri and trained directly from Oyata on an almost daily basis for 9 years. Training with Oyata Sensei and developing a close relationship with the master also furthered his foundation and insights into the martial arts.
Ten Shin Ichi Ryu – Looking Forward
Soshu Shintaku now resides in Maryland, just outside of Washington, DC and developed the art of Ten Shin Ichi Ryu™. The art of TSIR teaches the use of peaceful protection techniques in order to defend oneself. While there are many good techniques in martial arts, Ten Shin Ichi Ryu focuses on the mental aspects sometimes neglected in martial arts study along with energy flow, natural human reactions and non-aggressive techniques. It is his desire to share these peaceful findings with students; pass on the inner teachings found in training; and to preserve the dignity and traditions of the Japanese martial arts. We continue to work to spread a clear understanding of the traditions of Japanese martial arts, it's inner teachings and benefits.
Each year Ten Shin Ichi Ryu appears at the National Cherry Blossom Festival in Washington, DC and hosts an annual seminar in Maryland. TSIR was also featured at the Japan Festival in Kansas City. Soshu continues to teach his art locally and internationally. TSIR works to introduce westerners to Japan in order to gain a better understanding of the foundations of Japanese martial arts.
Private lessons, group classes and seminars are available. Classes are held regularly in Maryland, Missouri and Canada. Both the beginner and experienced martial artist seek out Soshu's guidance for a harmonious approach to self-protection and a deeper understanding of the inner contents of martial arts.
---
*More can be found on the Heike clan by reading "The Tale of Heike" a companion read to "The Tale of Genji."
Or by reading about:
Kumano and the Heike
Note: "The Heike Monogatari (the story of the Tairano Family) tells us that the prosperity of the Tairano Family started not accidentally but rather because of the power of the Kumano Gongen (Kumano Deity). While Kiyomori of the Heike clan was making his pilgrimage journey to Kumano by boat from Ise, a 'suzuki' (a sea bass) jumped into his boat. This implied that he would receive the power and support of the Suzuki family who were influential in the Kumano Navy. Indeed it is said that Kiyomori began his rise in the world soon after this auspicious event. He proceeded to cook and eat this sea bass with his family and servants. According to legend, by eating this fish he thereafter was assisted by the Kumano Gongen." This branch of the Suzuki family is the oldest recorded Suzuki family in Japan and related to the Shintaku family as well. Kumano Hayatama Taisha (Shinto shrine) - This shinto shrine is one of three main shrines all a part of the Kumano pilgrimage.