The Foundations of TSIR
Continuing in the tradition of how the Japanese arts were passed on, students learn individually from Soshu, studying the deeper concepts not typically explored in the martial arts today. Soshu Shiro Shintaku has been fortunate enough to study martial arts from some of the highest level instructors in recent times. It is his sincere wish to share these findings.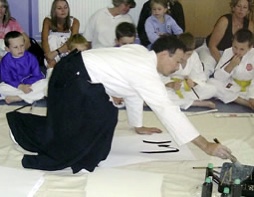 Throughout the centuries the Japanese martial arts developed from serious, well-developed, mature students finding their own way thru continual study. It is through these various, personal discoveries we have the variety of martial arts found today.

Ten Shin Ichi Ryu was developed from Soshu's lifetime of serious minded study in Japan and the US. He has more than 50 years of continuous, dedicated study, teaching and demonstrating martial arts - with an emphasis of natural motion, and using a variety of techniques -- all focusing on life protection and mental strength.
Soshu has graduate degrees from Japan and the US and has extensive experience in teaching English in Japan, martial arts across the US and abroad; and leads study-tours for western students visiting Japan. He has also studied traditional Japanese dance, music and poetry as a part of his study of Japanese history and philosophy.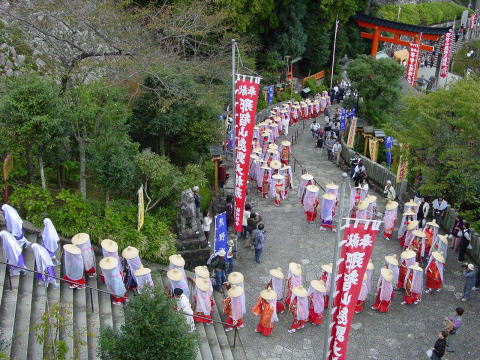 Soshu's serious martial arts study began during the early 1960's when he vigorously studied Goju Karate at Kyoto University of Foreign Studies. Goju Ryu was founded by Miyagi Chojun. The art of Goju Ryu spread from Okinawa to mainland Japan by Yamaguchi Gogen. There, Yamaguchi Sensei's personal student -- Tada Seigo Sensei (1922 to 1997) -- taught Goju Ryu to students at various colleges and local dojos including students from Kyoto University of Foreign Studies. Shintaku's instructor and friend to this day, Koda Shihan, was a senior student of Tada Seigo Sensei, and currently serves as Executive Director for the Japan Karate-Do Federation Gojukai (JKF Gojukai).
For Soshu, training in Goju Karate was very serious, very physical and provided a strong foundation for his formative years in the martial arts. Training included conditioning - like learning endurance by sitting in the freezing winter river waters, and of course, regular sparring (no padding or protective gear). College tradition at the time was for new members to be officially recognized as a club member, they would have to spar for 2 minutes with each black belt in the club. As a white belt, the experience "felt like forever..." much more than the 20 minutes it took to spar with 10 black belts.
After receiving his degree from Kyoto University of Foreign Studies, Shintaku received his license to teach in Japan. To further his knowledge of the English language and western culture, Soshu Shintaku decided to move to the United States. While in the US, he continued with his martial arts studies teaching Goju Ryu Karate at Berkley University in California. After a few years in California, he decided to explore more of the US and it's culture, and immerse itself in English. So, he moved to South Carolina, where he continued to teach Goju Ryu while earning an Associates Degree at Anderson University.
After receiving his degree from Anderson University, Soshu returned to Japan, taught English and began his studies in Aikido. This decision came about after seeing a demonstration by Aikido's Founder, Morihei Ueshiba. Shintaku Soshu began studying Aikido from Morihei Ueshiba's 10th Dan - Hikitsuchi Sensei -- located in Shingu. In Shintaku Soshu's opinion, Hikitsuchi Sensei was the most devoted student to the Founder of Aikido and respected him immensely.
Hikitsuchi Sensei devoted his life to O'Sensei. Due to Hikitsuchi Sensei's devotion, morning prayers were offered to O'Sensei, monthly visits to the Founders graveyard, and monthly memorials for the Founder were held. Through Shintaku Sensei's daily training experience with Hikitsuchi Sensei, he learned of the deeper concepts of Aikido the Founder had emphasized.
Shintaku Sensei spent early mornings alone with Hikitsuchi Sensei, and these were special, insightful moments in his life. Shintaku Sensei was dedicated to studying - traveling to the dojo at 4:30am in order to arrive early enough to clean the dojo and be ready for morning prayers. Routinely at the dojo before others arrived is what affored him private time with Hikitsuchi Sensei. It was also during this time Shintaku Sensei studied Iaido (Eishin Ryu), Bojitsu, Kendo and Jujitsu. Soshu Shintaku was fortunate enough to study Iaido from two instructors, Ishigaki Moriji, and Hikitsuchi Sensei himself. *Moriji Sensei was an instructor of sword arts to Hikitsuchi Sensei.
Years later, Soshu returned to the States and resumed teaching in South Carolina. It was there he began studying Ryukyu Kempo Karate and weapons from Okinawan Karate Master, Taika Oyata. After approximately 5 years, he moved to Missouri and trained directly from Taika Oyata on an almost daily basis for 9 years. Training with Oyata Sensei and developing a close relationship with the master also furthered his foundation and insights into the martial arts.

Miyoga Mon (family crest)
This mon design shows ginger growing strong with spreading roots.
The Shintaku family lineage has been traced back to the Heike* clan of Japan -- 12th century, and
Kumano Hayatama Taisha (shinto shrine).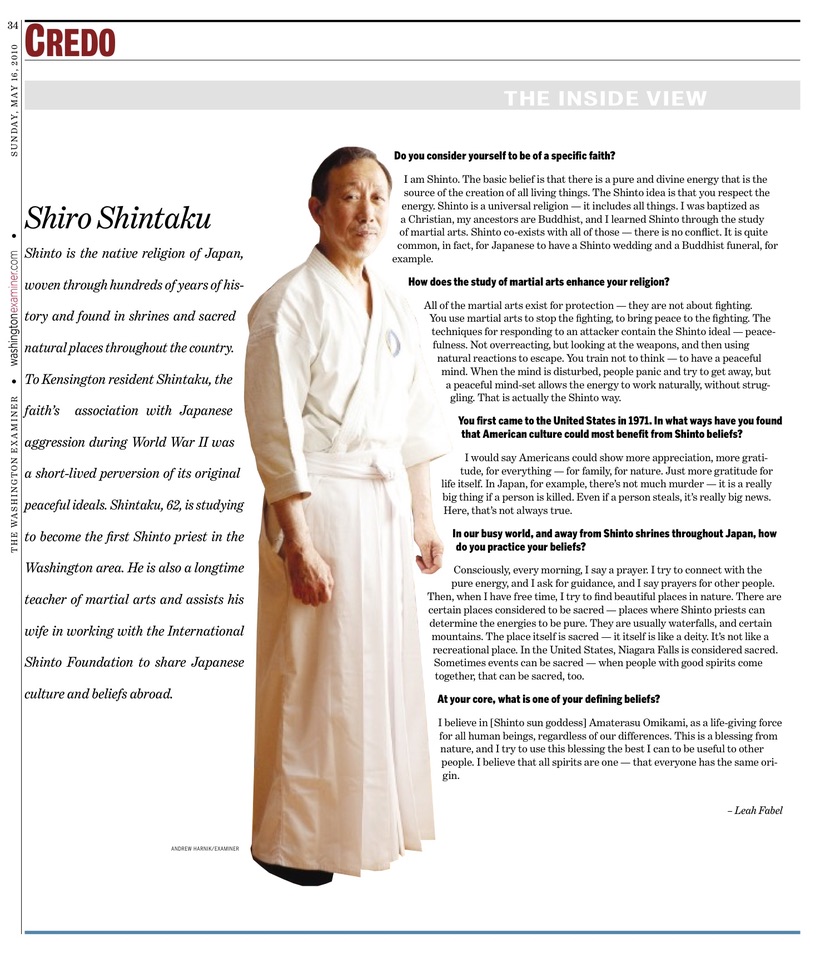 Interview of Shiro Shintaku, Soshu
By Leah Fabel, The Washington Examiner

Shinto is the native religion of Japan, woven through hundreds of years of history and found in shrines and sacred natural places throughout the country. To Kensington resident Shiro Shintaku, the faith's association with Japanese aggression during World War II was a short-lived perversion of its original peaceful ideals. Shintaku, 62, is studying to become the first Shinto priest in the Washington area. He is also a longtime teacher of martial arts, and assists his wife in working with the International Shinto Foundation to share Japanese culture and beliefs abroad.
...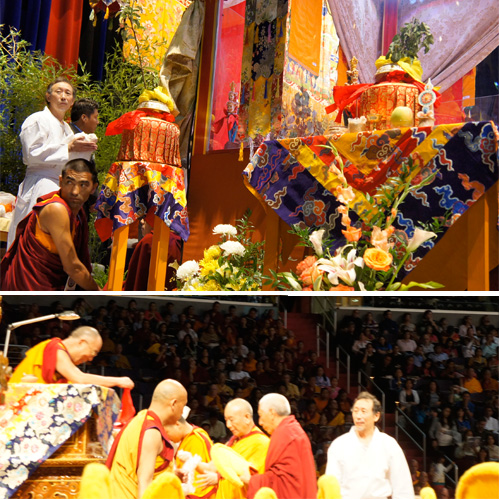 Soshu represents Japan during offering at the
Kalachakra for World Peace 2011 with His Holiness the Dalai Lama.
Various offerings were blessed by His Holiness as a part of the Kalachakra ceremony. Soshu represented the nation of Japan by bringing one offering on stage to His Holiness the Dalai Lama.

Soshu's wife, Mrs. Melanie Shintaku, served as an Organizing Committee member and helped plan this 11 day event held at the Verizon Center in Washington, DC.
Approximately 12,000 to 16,000 participants attended daily. Mrs. Shintaku, as a part of her devotion to His Holiness the Dalai Lama, was an Organizing Committee member for this large, sacred event And, making this a special event for the entire family, their daughter also volunteered.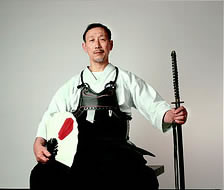 Soshu Shintaku at the Smithsonian Folklife Festival
Washington, DC

Asian Pacific Americans, Talkstory Tent
"Join us at the Talkstory tent in the Asian Pacific Americans section of the Folklife Festival. Mr. Shintaku will participate in a panel discussion regarding what it is like to teach the martial arts in the United States. The Festival is held outdoors on the National Mall in Washington, D.C., between the Smithsonian museums. Admission is free."
The annual Folklife Festival highlights grassroots cultures across the nation and around the world through performances and demonstrations of living traditions. The Festival, which began in 1967, occurs for two weeks every summer on the National Mall and attracts more than 1 million visitors. To date, the Festival has featured traditions from more than 90 nations and every region of the United States. It has brought more than 23,000 musicians, artists, performers, craftspeople, workers, cooks, storytellers and others to the nation's capital to demonstrate their skills, artistry, knowledge and wisdom.
For more information visit:
Smithsonian Folklife Festival
TSIR Donates to the March 11th Relief Fund


Soshu Shintaku along with students Jason Walker, Shari Wakiyama and John Shimabukaro met with officials at the Embassy of Japan in Washington, DC. TSIR donated funds which were raised by Soshu and students to aid in the recovery of Japan after the devastating March 11 earthquake and tsunami. Ambassador Ichiro Fujisaki sent his written thanks to Soshu which we will display in the dojo for the students to read.
Photo: (left to right: Jason Walker; Shiro Shintaku, Soshu;
Embassy of Japan Official Takizaki; Shari Wakiyama; John Shimabukuro
We express our sincere thanks to the TSIR students for their kindness and generosity.
We continue to pray for the recovery of the people of Japan.

~ Ambassador Ichiro Fujisaki
Soshu Shintaku - Offers "A Prayer for Japan"
Soshu Shintaku participated in this beautiful service on behalf of Tsurugaoka Hachimangu Shrine located in Kamakura, Japan. Our friends at Tsurugaoka Hachimangu are busy in the recovery. On behalf of the people of Japan and Tsurugaoka Hachimangu, we offer our sincere prayers for the recovery of the Japanese people.
The service marks one month since the 9.0-magnitude earthquake and resulting tsunami struck there March 11. His Excellency Ichiro Fujisaki, Japanese ambassador to the United States, will participate in the service featuring Buddhist, Shinto, Hindu, Muslim, Jewish, and Christian faith representatives. Cathedral Dean Samuel T. Lloyd will provide the welcome and invocation.
View the National Cathedral's video (Soshu's prayer is after the 1:27 mark)