Traditional Study Methods
Ten Shin Ichi Ryu practitioners choose to focus on one main area of study. However, cultivating a non-aggressive mindset is emphasized throughout training so one's physical technique can be executed more efficiently.

In teaching traditional Japanese arts, one art form is emphasized, but all aspects related to that particular way are studied in order to further one's maturity, knowledge and ability - resulting in a better depth of knowledge. For example, a student may focus on learning sword, but would also study shodo (brush writing) to further their focus, breathing and natural movement. Both aspects of training, hard and soft, physical and mental are explored. It is only modern training that has altered this way and in most cases removed a full curriculum of study in the traditional arts.
In order to receive personal attention from Soshu Shintaku, classes are limited.

Sharing Cultures
Through Soshu Shintaku's ongoing effort to bring a true understanding of Japanese martial arts, culture and history to western martial artists, he routinely arranges and leads a touring trip to Japan with students, family and friends. The Japanese friends and teachers we visit also benefit from the opportunity to learn about western culture first hand.
On these trips, participants train in some of the oldest dojos in Japan, explore castles, visit sacred and remote sites, including Shinto shrines and Buddhist temples. We have introduced renown martial artists from Japan; provided intimate chats with artists and family members - like Soshu's aunt who is certified in the ancient art of Japanese tea ceremony. We also make time for fun by visiting a class of Japanese students studying English. This cultural understanding is at the core of Soshu's belief in retaining the roots of Japanese martial arts.
TSIR Recognized by the Maryland Senate
In 2003, Soshu was deeply honored to receive recognition for his efforts in bringing western and Japanese cultures together. He truly appreciates this recognition from the Senate of Maryland. This Maryland State Resolution reads in part:
Be it hereby known to all that the Senate of Maryland offers its sincerest congratulations
to Shiro Shintaku in recognition of your efforts in building friendships between continents while preserving the traditional martial arts of Japan.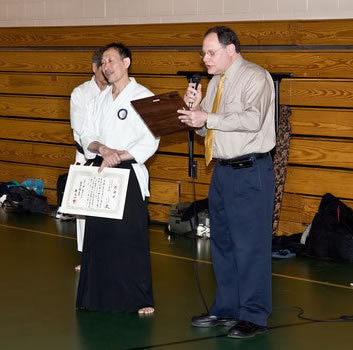 April 19 Proclaimed as "Ten Shin Ichi Ryu Day"
Recognition from the City of Gaithersburg

In 2008, April 19 was officially named "Ten Shin Ichi Ryu Day" by the City of Gaithersburg, and Mayor Sidney A. Katz.


At our annual seminar, Mayor Sidney Katz bestowed Soshu Shintaku with an official proclamation which designated April 19, 2008 as Ten Shin Ichi Ryu Day. We offer our most sincere gratitude to Mayor Katz and the City of Gaithersburg for this honor.
In special honor and recognition of Soshu Shiro Shintaku and his commitment to teaching cultural understanding, international cooperation, non-aggressive self-defense and discipline through a martial arts and training system that focuses on mental and physical development, promoting health and happiness.
- Mayor Katz, The City of Gaithersburg, MD